Our new MASHnet Website goes live!
Our new website is finally live – you are looking at it now – we hope you like it. This is a very significant step for MASHnet.
Great thanks especially due to Lumpy Lemon for all their hard work in planning, designing and coding this site.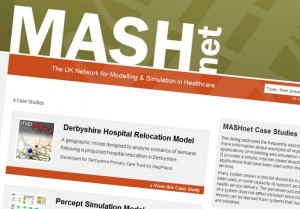 Over the next few months we aim to build up the content and refine the site significantly so that mashnet.info becomes the dynamic and interactive hub of information exchange for all of us engaged in healthcare modelling and simulation.
The structure and design of the site provides a much more powerful foundation for developing services into the future and we hope to explore this as we move forward. We welcome any feedback and suggestions for developments of the site which will become over time a central resource for the network.
Simon Blackbourn from Lumpy Lemon says:
We've really enjoyed developing this site, building something that will become a genuinely useful resource for all the members, and that will grow and evolve with the network over time. It's all built on the open source WordPress platform, which we have highly customised specifically for MASHnet. This provides a powerful and cost-effective Content Management System for the administrators to maintain the site easily, and for members to log in and update their profiles in the Member Directory.